"With over 20 years experience on four continents, the Henderson Yachting Team is uniquely positioned to manage the industry's most complicated and demanding challenges."

The Team can oversee new builds and refits anywhere in the world with the ability to match your needs with the finest builders and shipyards in the industry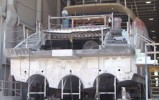 When it comes to building your new yacht, or refurbishing an existing yacht, the Henderson Team has the experience and knowledge to manage your project every step of the way.
Henderson International will provide all the consultancy services for your yacht, from the initial concept and design stage through to completion and delivery of your vessel.
Our services can be tailored to meet the specific requirements of any project, from new builds to repairs and refurbishment. As the Owner Representatives and Project Managers for your yacht, the Henderson International Team will review every detail of the project to insure that all quality standards are met, including Class and Flag requirements.
No two projects are alike; as the Owner's Representative for your yacht, Henderson's experienced in-house staff will oversee everything from the fundamentals of hull fabrication and engine choice to the finest details of interior design, fit and finish.